artist's insights
Poetic Aerialscapes
I am interested in the immensity and fragility of the natural world and our participation in it.
Explore art collection
art with a narrative
Custodians of our planet
My art reflects the wonders of nature - I like to think of them as conversational pieces that invite reflection.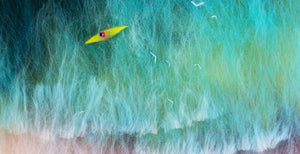 Open for commissions
Relive those memories
The rugged coastline of Cornwall or a favourite holiday haunt tucked away in a Welsh bay - I can create a bespoke piece of art that will draw you back to those happy places.
discover more
Collection I
A Dot in the Ocean
Exploring the relationship between our planet and ourselves, this is a series of aerial works in wool.
shop the collection
meet the artist
Hi! I'm Lucy
I am a mixed media artist working from my studio that sits right on the east coast of North Yorkshire.
Working with sheeps wool - preferably British where I can - I create magical landscapes that evoke wonder and nostalgia all at once.
Wool has an extraordinarily vibrant quality and delivers a wonderful texture and depth making it a unique and characterful medium to work with.
Lucy grew up on a hill farm high on Dartmoor, spending much of her childhood helping round up the sheep - this makes working with wool all the more serendipitous.
Learn more
"
The kind of art that stops you in your tracks and makes you ponder the world ...

"
"
Tactile beautiful art that has really created a great focal point

"